RCATS line of Radio Controlled accessories come from vast years of experience in the hobby. Battle tested and loved by R/C enthusiasts worldwide, our products are assembled in the US and backed by fantastic support. Whether you're a novice looking for maximum enjoyment, or a fierce competitor looking for an edge, RCATS helps push the limits.

Lithium Glow Driver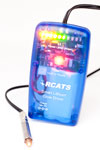 In a hurry to fly on that sunny day? Did you forget to charge your ni-starter? No problem. This unique device allows you unprecedented starting reliability and will outlast any ni-cad! It will even automatically adjust the current to keep your foul plug glowing for trouble free starts.

• 5200 mAh battery capacity for long battery life (over 1 year with normal use)
• Adjusts current automatically to keep the plug lit
• "Soft Start" slowly delivers current to prolong plug life
• User-selectable startup delay feature (~5 seconds)
• Built in charging system
• Auto shut-off
• Easy to read LED bar graph
• Modular plug clip for easy customization


• Internationally rated power supply (100-240V, 50/60Hz)
• Optional protective glove



Watch the YouTube video!

Electronic Switches

Simply plug these handy switches into an open channel of your R/C receiver for complete control of your ignition kill, magneto shut off, lights or anything you can dream up! The RC-100X consumes very low power, and has a high current carrying capacity (Capable of 5 amps at 30V!) If you need even more capacity, the RC-110 can carry 10 amps at 30V. If extreme RF interference may be an issue, the RC-100FO is a fiberoptic version of the RC-100X and comes with 24 inches of fiberoptic cable.