RCATS-EXP Standard Features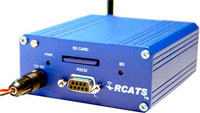 • 1 Watt RF Data link (10+ mile range)
• Data logging via removable Secure Digital (SD) card.
• GPS 12 channel receiver
• IAS 10-290mph (higher options available)
• Altitude (0-30,000ft) (with kollsman window compensation)
• RPM (0-40,000)
• G Force +/- 8 G's (higher option available)
• Thermocouple inputs x2 (0-1875 deg F)
• Internal temp (provides temperature compensation and relative temperature)
• RF receiver and basic antenna (high gain antenna options available)
• Real-time Google Earth interface

Specifications

The RCATS-EXP is housed in a 4" x 3.75" x 1.75" aluminum enclosure with a blue powder coated surface.

Options

Four additional data inputs are available as factory configurable options. Extra fees may apply. Example uses for these inputs are:

• Voltage
• Current
• Outside Air Temperature
• Oil Pressure
• Oil Temperature
• Manifold Pressure
• Interfacing with engine monitors and other serial devices (Such as JPI and EI engine monitors) Panel layout and customization is also available.
For more information and pricing, contact us via phone or email. 408-292-3100 or info@rcatsystems.com